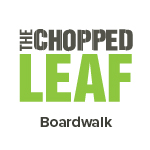 Chopped Leaf Boardwalk
235 Boardwalk
M-S: 10:30-7 Sun 11-6
Contactless pick-up & take-out
All online orders will be placed on a table at the front of the store for you to pick-up. Orders will be placed in a bag with your receipt stapled to it.
Pick Up Only - for Delivery : CLICK HERE


$ 0.00
Soup of the Day
* All prices subject to change without notice.